Media Highlights
08/09/2017
Storage Device Miniaturization in the Era of the Internet of Things (DIGITIMES)
(Figure 1) BGA SATA SSD
(2017-08-09 Nantou News) With the advancement of online social media, wide application of digital data and development of different Internet of Things devices, many mobile devices and in-vehicle devices need to work faster and require components of larger capacities to store information and data. Thanks to the continuous evolution of NAND and ASIC technologies, the storage density of NAND per unit area is increasing day by day, and the performance of ASIC is also improving. As a result, growing attention is turned to storage device miniaturization. In the fields of wearable and mobile devices, people look for storage products with a larger capacity, a smaller size, a faster speed and higher performance.
At present, as the specifications concerning the space, environment and shock resistance of mobile devices and vehicle control systems are more rigorous than ever before, the storage device, mounted to the host device in the form of a component or board to board, is an option that one must consider. The BGA-type flash memory, with such advantages, is gradually standing out. In the form of wafer packaging, the main control, the flash memory, and even the source of power and protection circuitry are securely integrated into one component, allowing product designers to directly use the storage device on their own products.
Meticulous Efforts for Breakthroughs and Advances
However, how to embed large-capacity storage solutions into increasingly miniaturized smart devices has become a tricky challenge. For more than a decade, USI has been dedicated to the design and development of large-scale storage arrays, solid-state drives/disks and small-scale storage solutions. It has designed, developed and produced disk arrays, storage adapters, consumer and industrial SATA/SAS/PCIe solid-state drives for a few world-known companies. Through its resource integration with its parent company, ASE Group, in the first ten years of the 21st century, and its experience in the design, production and testing of electronics over the past more than ten years, USI successfully designed the first complete SATA BGA solid-state disk based on the MLC NAND wafer (Figure 1). The initial sample size of 32GB is set at 16mmx20mmx1.8mm, and the interface can provide all the functions of SATA SSD with the use of only 3.3V power supply and SATA connection. It is only approximately 4.6% of the size of the current 2.5" (100mm x 69.85mm) solid-state disk, and just about 48% of the size of the M.2-2230 (22mm x 30mm) SATA solid-state disk, thus greatly reducing the space occupied by a storage solution in a miniaturized product.
Advanced Technologies as Drivers Behinds New Products
It's important to advance new technologies and develop new products. As for BGA SSA products, no other manufacturer is able to integrate all components of SATA SSD into a single BGA. On this basis, USI, based on different application environments, use hybrid technologies to design diversified products, such as the employment of hybrid technologies to integrate BGA packaging technology and SMT technology.
By introducing it into a standard solid-state hard drive, a new product is more compatible with mainstream products, and the M.2 hybrid-technology solid-state drive comes into being. As is shown in Figure 2, the packaged particles of dual NANDs can be accommodated under single-sided mounting conditions.
The M.2 hybrid-technology solid-state drive can provide a large capacity while maintaining a small size, providing more design possibilities for user product design. With this technology, USI launched the industry's first M.2-2230 hybrid-technology solid-state hard drive in 2013 with a thickness of 1.8mm. After that, it launched the M.2-2242 hybrid-technology solid-state hard disk (Figure 2). The hybrid technology that combines surface mounting and packaging is still at the forefront of the industry, offering new ideas for technological integration in terms of solid-state drive design.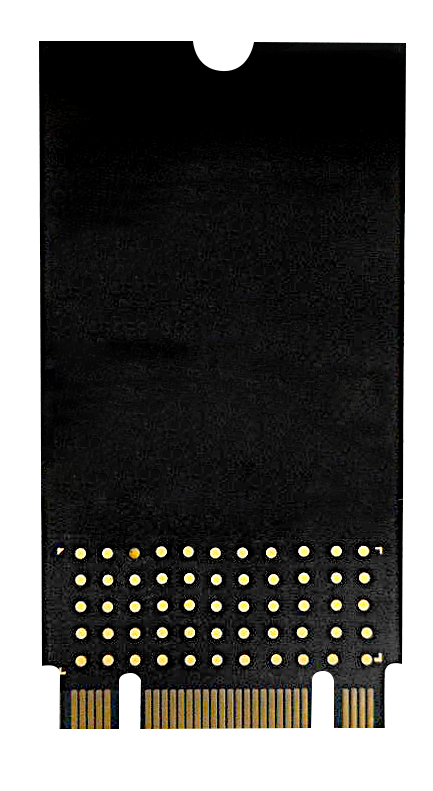 (Figure 2) M.2-2242 SSD (Dual NAND)
With the evolution of techniques and technologies, miniaturized intelligent electronic products will shine in the near future. USI will also keep up with the times and provide its customers with better storage solutions by leveraging its accumulated technical experience in storage solutions.
About USI
USI is a global ODM/EMS leading company providing design, miniaturization, material sourcing, manufacturing, logistics, and after services of electronic devices/modules for brand owners. USI is a member of ASE Group and has been listed in Shanghai Stock Exchange in 2012. It has many years of experience in the electronics manufacturing services industry and leverages the industry-leading technology of ASE Group, which enables USI to offer customer diversify product in the sectors of wireless communication, computer and storage, consumer, industrial, and automotive electronics worldwide. Through the sales service network in North America, Europe, Japan, China, Taiwan, and manufacturing sites in China, Taiwan and Mexico. USI has about 15,000 people worldwide. For more information, please visit www.usish.com