Press Releases
08/29/2023
Embracing the Era of Cloud and Edge Computing Integration: USI Unveils Versatile Modular Edge Computing Solution
(2023-08-29 Shanghai) Today, mobile devices not only directly support personal data-driven lifestyles but also spearhead the explosive growth of global network data. According to the IDC's "Data Age 2025" report, the annual data generation worldwide is projected to surge from 33ZB in 2018 to 175ZB, equivalent to producing 491EB of data each day. However, this influx of colossal data poses significant challenges to the existing cloud infrastructure and edge computing architecture. USI (SSE: 601231), a global leader in electronic design and manufacturing, has responded to the challenges of the data era by introducing an optimized edge computing solution.
With the continuous proliferation of edge devices, transmitting vast amounts of data to the cloud brings about significant costs. Edge computing, on the other hand, enables local data processing, storage, and analysis, only sending essential data back to the cloud. This approach significantly reduces bandwidth requirements and related expenses. Additionally, security and privacy issues pose severe challenges in today's technological landscape. Edge computing addresses this by minimizing the volume of data transmitted over networks, effectively lowering the risk of data interception and enhancing overall security.
Leveraging AI technology, edge computing achieves faster processing speeds, fully unleashing the potential of untapped data. Beyond the surge in data volume, the emergence of diverse applications like Artificial Intelligence (AI), Augmented Reality (AR), Virtual Reality (VR), autonomous driving, smart cities, and healthcare, further amplifies the demand for cloud infrastructure. However, these applications impose stringent requirements on factors such as response times, network bandwidth, security, and privacy protection.
As a globally recognized provider of electronic design and manufacturing solutions, USI comprehends the aforementioned challenges and demands. The company's unwavering focus on the server domain has driven the development of versatile edge computing servers, tailored to meet the distinct needs of various markets and application scenarios. Diverging from conventional server designs, USI has redefined the conventional monolithic server structure through an innovative modular approach. This novel design separates the architecture into two essential components: a CPU board centered on computation and security (powered by Intel IceLake-D + TPM), and an IO board prioritizing outputs. Carefully crafted, this solution is adaptable for both half-width 1U and 2U chassis, offering options such as 25G/10G SFP28 and 1G RJ45 to cater to diverse networking requirements.
Furthermore, USI not only furnishes WiFi/LTE/5G support within the 2U systems but also addresses the escalating demands of wireless management and data transmission. For sectors demanding high computational power, such as smart cities and autonomous driving, the company has devised a range of over five PCIe Gen4 expansion cards and storage backplanes. These solutions effectively bolster a variety of needs, including image recognition processing and redundancy tolerance. Simultaneously, the company's offerings encompass 1U systems and 1G IO boards tailored to distinct usage scenarios. By integrating PCIe expansion cards and NVMe backplanes, USI achieves efficient computation and storage, aligning with the evolving landscape.
Leo Tai, Director of the Research and Development Center at USI, emphasized that "this modular architecture empowers customers with the freedom to configure and adapt for various edge computing scenarios, achieving an optimal balance between performance and cost-effectiveness. Whether it's in the realms of smart cities, autonomous vehicles, intelligent manufacturing, or any other diverse context, USI stands ready to offer clients the very best solution. This commitment not only assists clients in securing a leading position within the market but also fosters a mutually beneficial partnership."
With the rapid advancement of technology, the future network architecture will witness a profound convergence of cloud computing and edge computing, jointly shaping a revolutionary era of data. Cloud computing will delve into the domains of deep learning and machine learning, giving rise to intricate and powerful patterns of artificial intelligence applications. On the other hand, edge computing will leverage these patterns as the foundation to extrapolate intelligent applications tailored to diverse scenarios. Acting as the conduit for these cloud-driven paradigms, edge computing will emerge as the driving force behind the realization of intelligent applications. Edge computing will find extensive applications in enhanced mobile broadband (eMBB), ultra-reliable low-latency communication (uRLCC), and massive machine-type communication (mMTC), among other domains, fueling the realization of smarter and more efficient urban environments, healthcare systems, transportation networks, and more.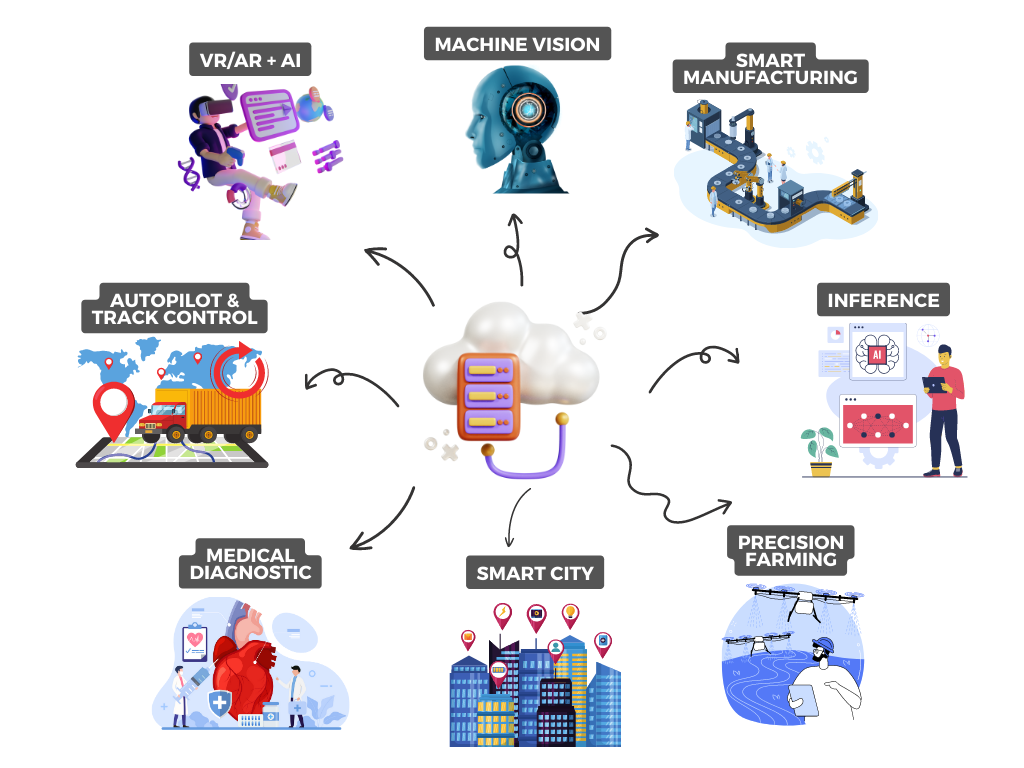 Applications of AI + Edge Computing