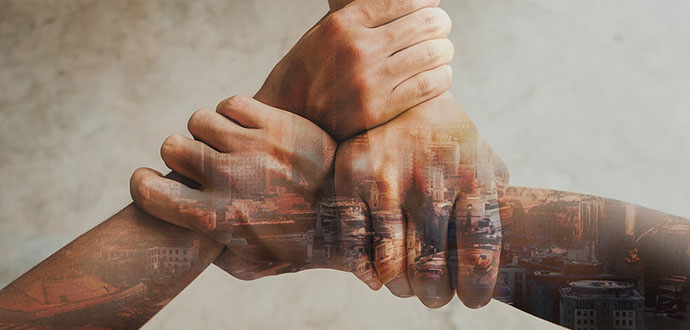 Value Chain Management
Customer Relationship
Since its inception, USI has been providing professional services and quality products to meet the diverse needs of our customers. We possess cutting-edge product development and manufacturing capabilities to offer customers with complete services from design to distribution across global production locations and commit to providing the fastest and most agile technical and logistics services close to our customers. Customer satisfaction is a core goal and value pursued by the Company.
Quality and Service
USI aims to meet or exceed customer expectations with stable, reliable, cost-effective products. Our quality management system and policies ensure consistent high standards. We regularly inspect and audit for quality control, prioritize risk assessment and control, and strive for continuous improvement to meet our quality policies.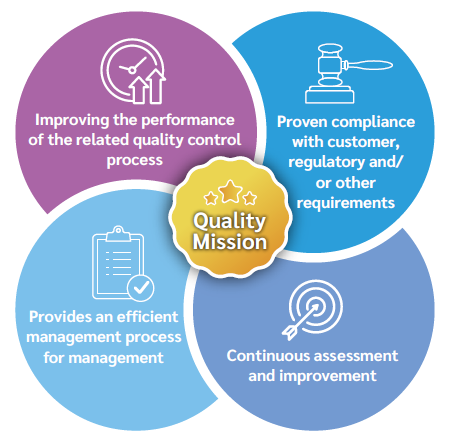 Driving up Customer Satisfaction
USI tailors services to customer needs and prioritizes high quality, efficiency, and flexibility. We value effective communication and welcome customer feedback on ideas and issues of concern. In the 2022 customer satisfaction* survey that covers all customers, 93% were satisfied with USI's services, and the customer satisfaction score averages 84.2 (Successful) across all satisfaction dimensions. USI strives to improve customer satisfaction in all aspects to achieve higher customer satisfaction for sustainable corporate development.
Percentage of Satisfied Customers: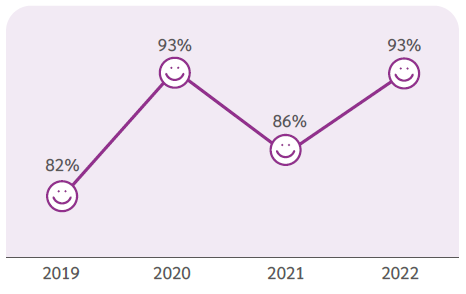 Customer Satisfaction Score:
* Definition of Customer Satisfaction Score: Outstanding (Satisfaction≥ 90), Excellent (Satisfaction ≥ 85), Successful (Satisfaction ≥ 80),Satisfied (Satisfaction ≥ 70), Improvement
Customer Privacy Protection
Confidential customer information and customer health and safety are always treated with the highest priority as they are crucial assets for both parties and the basis for mutual trust. USI commits to maintaining customer privacy and data confidentiality, in addition to signing confidentiality agreements with our customers to safeguard customers' proprietary and confidential information, we have also established privacy and personal information protection policies. This includes managing the collection, processing, and use of personal information, and practicing privacy and personal information protection to ensure the rights and interests of all.
Regarding customer document management, the Company stipulates that all customer documents are defined to have the highest level of confidentiality to protect product information provided by customers. Information authorization management is adopted to ensure that customer privacy is tightly protected. For information security management, implement information security policies through various management systems and management committees, strengthen the information security environment and information security incident response capabilities, and protect the Company's intellectual property and customer data from leakage or unauthorized access.