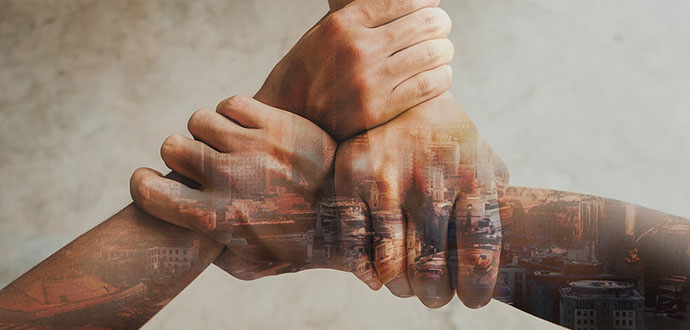 Value Chain Management
Supply Chain Management
USI strives to establish a sustainable supply chain, such as supporting local suppliers, implementing human rights, and safeguarding labor rights, restricting the use of hazardous substances, and not using conflict minerals. The Company adjusts its procurement strategy according to the industry trend, diversifies the sources of goods to reduce risks, ensures the supply of raw materials with competitive price advantages, reasonable costs, accurate delivery and good quality.
The Suppliers of USI
USI supports local suppliers. This strategy not only facilitates the growth of local economy and increases local employment rates, but also effectively saves energy and time consumed in the transportation, helping us to minimize impacts to our environment. Therefore, our raw materials are primarily purchased from local or nearby suppliers. In 2020, the percentage of purchasing from local suppliers in each Facility is shown in the figure as follows: 19% in Mexico, 30% in Taiwan, and 38% in China.
Percentage of Purchasing from Local Suppliers at All Facilities:
The global local procurement rate grew from 19% in 2019 to 36% in 2020. Our strategic procurement department will continue to strengthen the management of target suppliers and select local vendors with competitive advantages, to enhance the competitive advantage of the local industry and strengthen the partnership with suppliers.
Supply Chain Management Strategy
In addition to cost and quality considerations, we evaluate the overall sustainable value of the supply chain in our daily procurement operations. We aim to grow together with our suppliers through developing stable partnerships, strengthening supply chain resilience and practicing responsible procurement.
USI Supply Chain Management Strategy:
Target: Strengthen Supply Chain Resilience - avoid unplanned downtime and material shortages by increasing supply sources
Program: Bringing in Second Sources
For ODM/JDM projects, we try to establish more than two Second Sources for each material to avoid severe shortages and optimize product quality. This method increases our bargaining chips, allowing us to replace unsuitable suppliers and reduce material costs. For OEM projects, we introduce and recommend sustainable suppliers we consider to be competitive to the customers. For example, in one of our JDM projects (annual revenue CNY 442 million), 70 electronic components have Second Sources. We imported 30 parts from Second Sources, saving CNY 5.5 million. The other 40 parts with Second Sources are not cost-effective but increases our supply flexibility and reduces shortage pressures when the market is in short supply.
Target: Supply Chain Optimization - provide customers with a selection of sustainable suppliers
Program: Invest in ESG Integration in Existing Excellent Suppliers
We collaborate and work with our supplier partners throughout the production process to continuously improve their economic, environmental, and social sustainability, providing sustainable and competitive supplier choices for customers. For instance, we invested and enhanced our Supplier M's technology and quality standards, accelerating their production process and cycle. Then we recommended Supplier M to Customer Z, saving CNY 9 million annually.
Green Supply Chain
The trend toward sustainable development of green product is inevitable. Only by establishing long-lasting management model of green supply chain could allow industries face up-coming challenges. As a result, USI ensured that the entire production process---which involves product design, procurement of materials, manufacturing, transportation, packing, sale, and recycling of products---generated the maximum environmental benefits. With an effort to integrate upper and lower-stream partners, USI vowed to create a safe, stable green supply chain.
In response to the improvement of global green product environmental protection laws and diversified customers' requirements for green product standards (RoHS, REACH, and Conflict Minerals), USI introduced a professional green value chain management platform "Green Parts Aggregations & Reporting System (GPARS)" in 2020, which allows suppliers to understand the Company's latest green product specifications through the GPARS platform and conduct green part certification. Through systematic management, we implement a global green product supply chain, improve data accuracy, and strengthen partnerships with our supply chain partners, to achieve a sustainable supply chain.
GPARS/EHS System:
Supplier Evaluation
Supplier evaluation criteria for protecting human rights and environment, as well as providing customers with high-quality products that meet health and safety requirements. Through continuous and close cooperative relationships with suppliers, a sustainable supply chain can be jointly established.
Supplier Evaluation Procedure:

All new suppliers developed by USI, they are required to sign the "Certificate of Non-use of Environmentally Hazardous Substances", "Conflict Minerals Representation", "Supplier Sunshine Conduct Declaration" and "Supplier's Commitment to Corporate Social Responsibilities" to ensure that they will include the effects of environmental sustainability, social labor and human rights in the assessment and control. If the supplier violates any agreement in the letter of commitment, the supplier shall be liable for breach of contract according to the content of the letter of commitment. For example, if the supplier violates the "Guarantee of Non-Use of Environmental Hazardous Substances", the supplier shall be responsible for product recycling or replacement, and shall compensate for any damages caused by such violation; if the supplier violates the "Integrity Trading Declaration", the supplier may immediately stop, or terminate the transaction relationship with the supplier, and shall bear the corresponding legal and compensation responsibilities and damages suffered. For more details, please refer to the following related files.
Download full PDF here:
USI will give a corresponding approval level to the supplier after the evaluation. The relevant results and qualified supplier list can be looked up in the internal system. In 2020, a total of 18 new suppliers of USI entered the evaluation process, and finally 16 of them passed the review. The proportion of new suppliers that passed the screening was 89%.
Evaluation results:
| Year | 2018 | 2019 | 2020 |
| --- | --- | --- | --- |
| Suppliers | 12 | 20 | 16 |
| Passing Percentage | 80% | 95% | 89% |
Contractor Management
Companies outsource technical and professional projects to contractors have become an inevitable trend. USI values contractor's safety and health management. Environment safety and health policy clearly commits "on a continuous basis, employees, suppliers and contractors must conduct environmental safety and health policy, knowledge and requirements through communication, participation and consultation. USI also provides training and exercise to reduce safety and health risks & incidents". And by implementing safety and health management evaluation, contractors could enhance their safety and health performance. In 2020, the number of contractors participating in the company's occupational safety and health training reached 612 contractors. After training and evaluation by the EHS departments of each site, a total of 2,328 contractor employees obtained construction permits; no qualified contractors were disqualified due to safety and health audits.
Number of Contractor obtained construction permits:
| Year | 2018 | 2019 | 2020 |
| --- | --- | --- | --- |
| Total Attendees | 2,355 | 2,250 | 2,328 |
Supplier Sustainability Risk Assessment
To enhance the overall competitiveness of our supply chain and ensure our suppliers' compliance with corporate social responsibilities, USI has abided by the RBA code of conducts to assess and audit our suppliers. Formed by the Human Resources Department and EHS Department, the audit team is in charge of the audit within the scope of labors, health and safety, environmental, ethics and management system. The assessed items include the protection of human rights, fair treatment, legal working hours and salary, and environmental management, where suppliers are requested to ensure the rights and benefits of our employees, to implement the human right policy and to enhance the Company's performance in the society.
Sustainability Risk Assessment Procedure:
To better understand the status of the suppliers' sustainability development, USI uses the Self-Assessment Questionnaire (SAQ) and on-site audits to conduct a risk assessment of the suppliers. In 2020, we conducted a sustainability assessment survey of 576 supplier, with a return rate of 70%, and the survey results showed that nearly 90% of the supplier audit results had a low risk rating. In addition, a total of 40 material suppliers were audited online and 36 on-site service providers were on-site audited. The audit results showed that 97% of them were at a low risk level.
The Company analyzed the discrepancies of supplier audits and found that the labor and health and safety of the five major aspects accounted for 79% of the items requiring improvement, as shown in the chart below. In the future, USI will also provide counseling services thereto based on these two aspects. In 2020, none of these suppliers were dissolved the partnership after the assessment. The Sustainability risk assessment results, please refer to the " Risk Assessment, Mitigation and Compensation Measure".
Supplier Sustainability Evaluation:
| Year | 2018 | 2019 | 2020 |
| --- | --- | --- | --- |
| Number of suppliers evaluated with sustainability metrics | 382 | 515 | 576 |
| Number of suppliers on-site audited with sustainability metrics | 75 | 80 | 76 |
Distribution of Supplier Sustainability Audit Findings: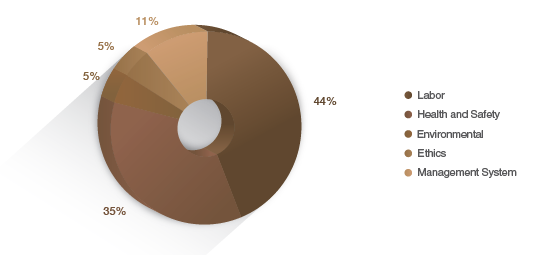 Supplier Communication
USI has held supplier sustainability briefings for six consecutive years, and communicated directly with suppliers from all over the country. Through the briefings, it conveyed USI sustainability management requirements, implementation experience and future goals, RBA code of conduct, conflict mineral management, and the latest international green Standardize requirements and trends (such as RoHS, REACH standards, etc.) to ensure that suppliers understand USI sustainable management. In 2020, the Greater China "Global Sustainable Supply Chain Webinar" was held our Taiwan plant to advocate the Company's various policies and beliefs and communicate directly with suppliers from all over the world. A total of 120 supplier partners attended the online conference.
Sustainable Suppliers Briefing:
| Year | 2018 | 2019 | 2020 |
| --- | --- | --- | --- |
| Total Attendees | 287 | 222 | 120 |