Search
Work Smarter, Not Harder: How Docking Stations Revolutionize Your Work
In the current workplace, the vision of mobility has evolved to become increasingly dominant. With the advancement of remote work and relaxed office engagements, employees frequently push between other workspaces, residences, the office, or on the job. However, this newfound flexibility can also present challenges when maintaining productivity and ensuring seamless connectivity. Docking stations have a position in this. By acting as a main hub for all our peripherals and enabling seamless motion between workspaces, these modest gadgets can revolutionize the way we do our jobs.
The Concept and Role of Docking Stations
A docking station is essentially a hardware component that serves as a bridge, connecting laptops or other portable devices to an array of peripherals and accessories with a single connection point. These peripherals include keyboards, printers, mice, network cables, external storage, and displays.

The main purpose of the docking station is to simplify the process of connecting and disconnecting external devices. Users can effortlessly dock and undock their devices from the docking station, eliminating the hassle of dealing with a tangled web of cables each time they move between different work environments. This seamless transition is especially beneficial for professionals who require flexible work arrangements.

Moreover, as laptops continue to become thinner and lighter, they often come equipped with limited ports. In response to this trend, docking stations have evolved to become versatile peripherals catering to laptops and various other devices, including tablets and smartphones. They can serve as speakerphones, provide Qi wireless charging capabilities, function as KVM switches, support IoT devices, enhance WiFi connectivity, incorporate SSD storage, and even accommodate external graphics cards, among many other possibilities. As a result, docking stations have become indispensable tools for professionals seeking efficiency in their work setups.
What Difference Does a Docking Station Make to a Job?
Docking stations have massively benefited the way you interact with technology. The following provides contextual examples and optimization highlights that significantly impact productivity and can improve productivity, efficiency, and user experience in various common scenarios. Whichever you are, in the dynamic landscape of modern workplaces, this tool can make a profound difference in our daily job performance, such as office professionals, remote workers, business travelers, hot-desking environments, and IT departments.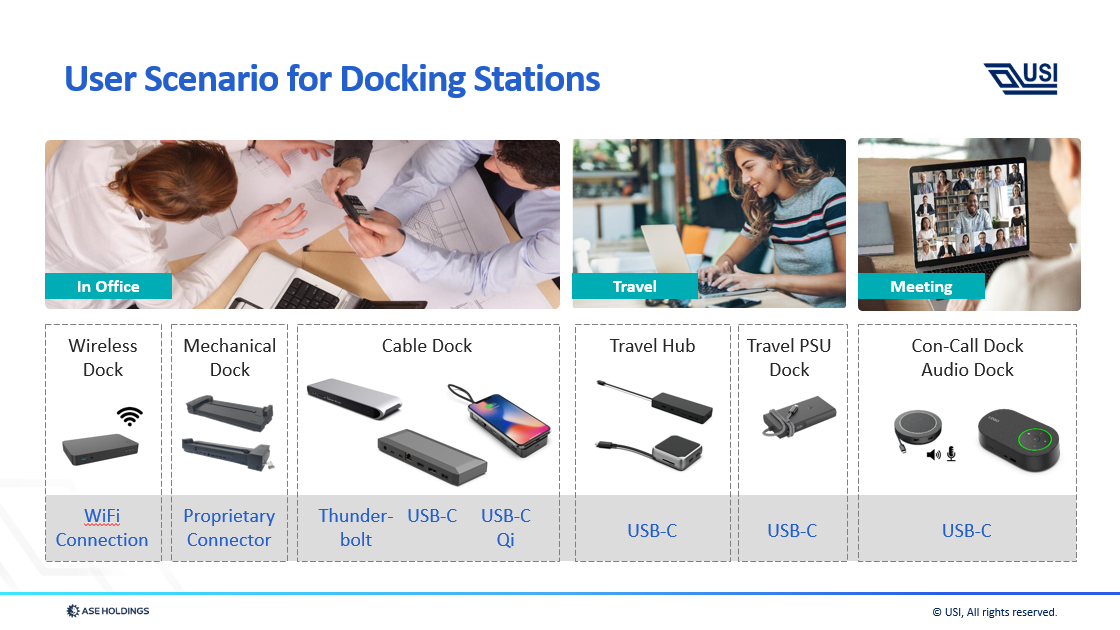 Enhanced Productivity: Docking stations create a more ergonomic work setup by allowing users to connect their laptops to larger external monitors. This larger display real estate can significantly boost productivity, enabling users to work with multiple tasks simultaneously, review documents side by side, or engage in video conferencing with greater clarity and ease.
Streamlined Connectivity: With a docking station, users can avoid the hassle of connecting and disconnecting multiple peripherals every time they switch workspaces. A single connection to the docking station instantly links all devices, enabling users to focus on their work without interruptions.
Improved Multitasking: Docking stations enable seamless integration with multiple peripherals, making multitasking a breeze. Users can connect additional USB devices like external hard drives, printers, scanners, and more, simultaneously accessible from a single docking station connection.
Flexibility in Work Environment: For professionals in the office and remotely, docking stations offer unparalleled convenience. The ability to transform a laptop into a full-fledged desktop setup at the office and quickly switch to a portable, on-the-go device outside the office ensures adaptability in any work environment.
All-in-One Charging: Some docking stations also function, allowing users to keep their laptops, mobile phones and tablets fully charged while connecting to various peripherals. This feature is handy during long work sessions, eliminating the need to search for separate power outlets.
Why Manufacturer Matters in Docking Stations?
Regarding docking stations, the manufacturer behind the product is a factor that should not be underestimated. In the world of technology products, where innovation and quality are paramount, the manufacturer plays a crucial role in determining a docking station's overall performance, reliability, and user experience.

Quality Assurance
One of the primary reasons why the manufacturer matters is quality assurance. Reputable manufacturers invest in research and development to ensure their docking stations meet stringent quality standards. They employ rigorous testing procedures to identify and rectify potential issues before the product reaches the market.

These devices serve as critical bridges between portable laptops or tablets and a myriad of peripherals. Behind every dependable docking station is a meticulous verification process that guarantees its ability to bridge the gap between laptops and peripherals with utmost precision and reliability. The process includes board-level tests, system-level tests, signals, power Integrity, and functionality and compatibility tests.

Warranty and Customer Support
Another critical aspect where the manufacturer shines is in warranty and customer support. Reputable manufacturers stand behind their products, offering extended warranties and comprehensive customer support. This means that if you encounter any problems with your docking station, you can rely on the manufacturer's support team to provide assistance and solutions.

Build Quality and Features
The manufacturer also influences a docking station's physical build quality and aesthetics. Established manufacturers often invest and put a lot of effort into premium materials and mechanical design to create docking stations that perform well and look sleek and professional. It matters, especially if you value the aesthetics of your workspace.

A well-designed docking station complements your desk and adds to the overall user experience. It's a testament to the manufacturer's commitment to providing a high-quality product. Moreover, whether it's support for higher display resolutions, faster data transfer speeds, or additional connectivity options, established manufacturers are more likely to introduce cutting-edge features in their docking stations.
Invest in Your Workspace
Docking stations transform our work by providing a centralized hub for all peripherals and accessories. With their capacity to improve productivity, facilitate connectivity, and suggest flexibility in job environments, docking stations have evolved into necessary tools for current specialists. Whether you are a remote worker, a business traveler, or an office-based employee, supporting a convenient docking station can create a meaningful distinction in your job, authorizing you to work seamlessly and efficiently in any work environment.

In the realm of docking stations, by carefully considering the manufacturer's reputation, emphasizing quality assurance, assessing build quality, and evaluating essential features, you're enhancing your productivity and ensuring a seamless and dependable experience in your work environment. Ultimately, your docking station should reflect efficiency, reliability, and comfort in the modern workplace. The right choice would be an investment in your workspace's long-term efficiency and functionality..
Keep up with top trending topic
For the latest innovation technology, application
and industry insight.
Subscribe Our Blog