Search
How 5G Change the Game of Mechanical Design in Handheld Devices?
Author: Allen Chao / Associated Director of Mechanical Developing Function Div. of Central Engineering II


Compared to the previous 3G and 4G product development, the high frequency and broad bandwidth of 5G requires developers to incorporate more antennas in the same product space. How to solve these problems through mechanical design?

Based on these product experiences, we can conclude some key points in mechanical design, including antenna placement, thermal solution and method to squeeze more space.

First, as you can see in the comparison below, there is a significant design difference between 4G and 5G antenna placement. The total number of antennae has increased significantly from 5 to 13. 5 new locations occupy battery's both sides.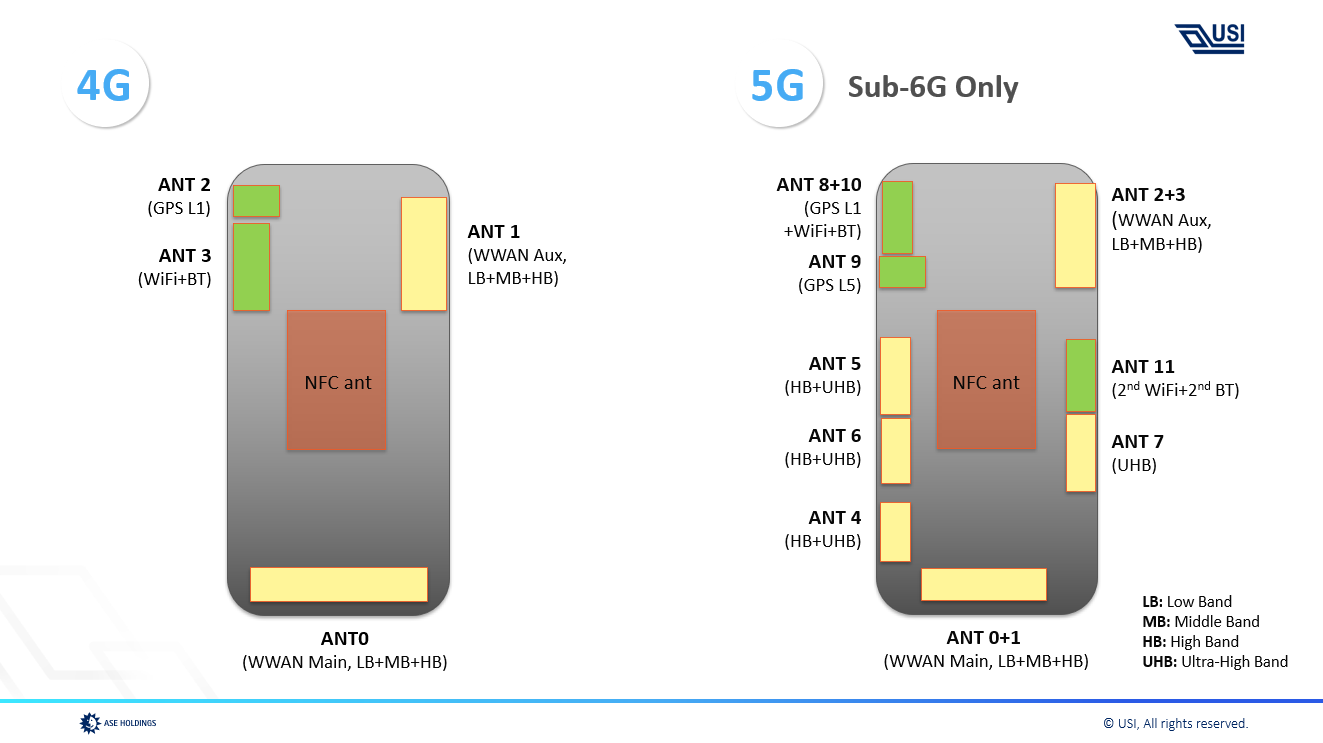 You should be careful of antenna's keep-out distance and the best location for side buttons. And if the battery is required to be removable, the remaining space on both sides will be very, very limited. Cable connections between system's upper part and lower part will be difficult. You can use LCP FPC in ~0.2mm thickness to replace coaxial cables through battery's both sides.

For mm-wave version, it'll need at least 3 more antennas. Recommended locations are 2 on both sides facing left and right, the other 1 at top facing rear. Sub-6G antennas are combined and adjusted after that. You can see the whole back side of the handheld is occupied by antennas except the battery area. Battery area will be used for the wireless charging coil on the handheld with this function.



The following shows some hints for the design engineers:
If there's payment requirements, the NFC loop antenna circled area needs to be as big as possible to meet EMVCo.

IO connector and/or speaker box metal must be away from WWAN main antenna

Side switch and/or FPC must eliminate metal as much as possible to avoid antenna performance downgrade

Sides and bottom under the antenna area's clear area w/o any component or metal

Antenna must be the highest part with respect to components with metal

All metal parts need to have multiple common grounds (GND) with PCBA
Once the antenna layout foundation has been structured, it is then necessary to further examine the thermal performance of the components under this structure.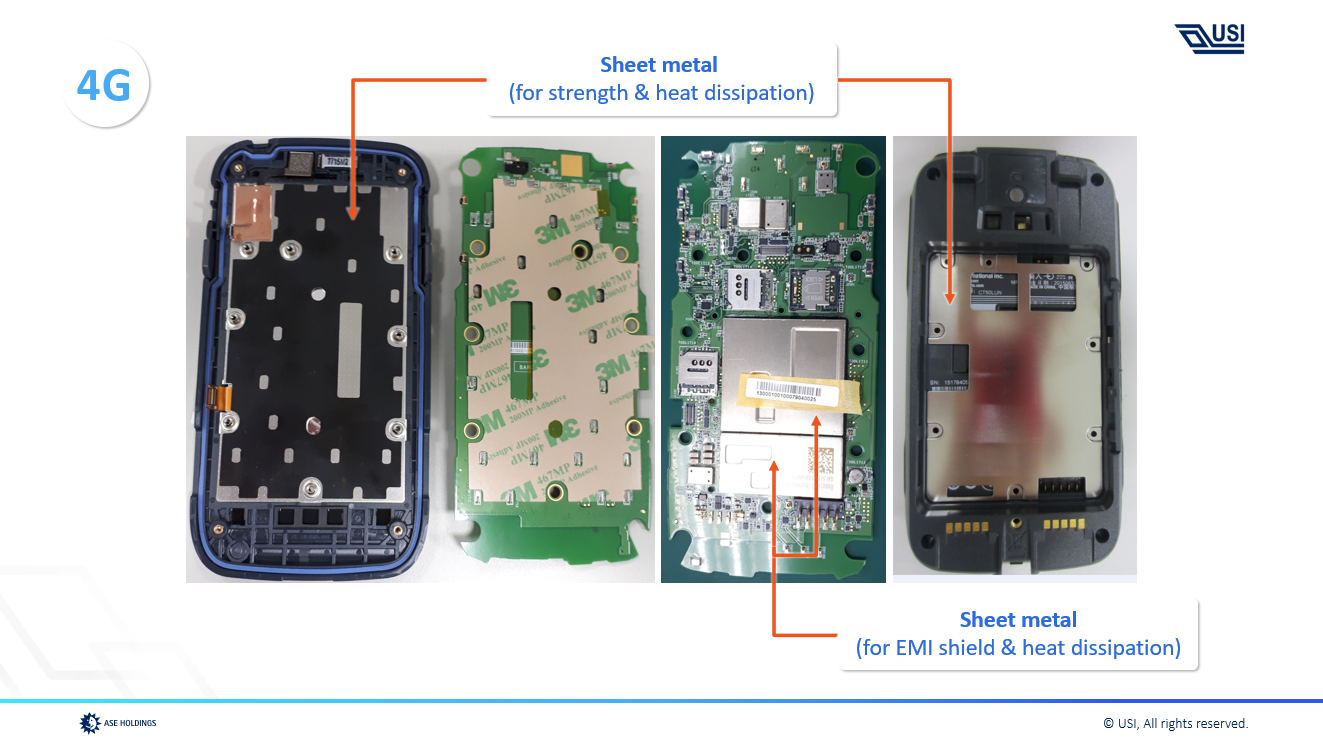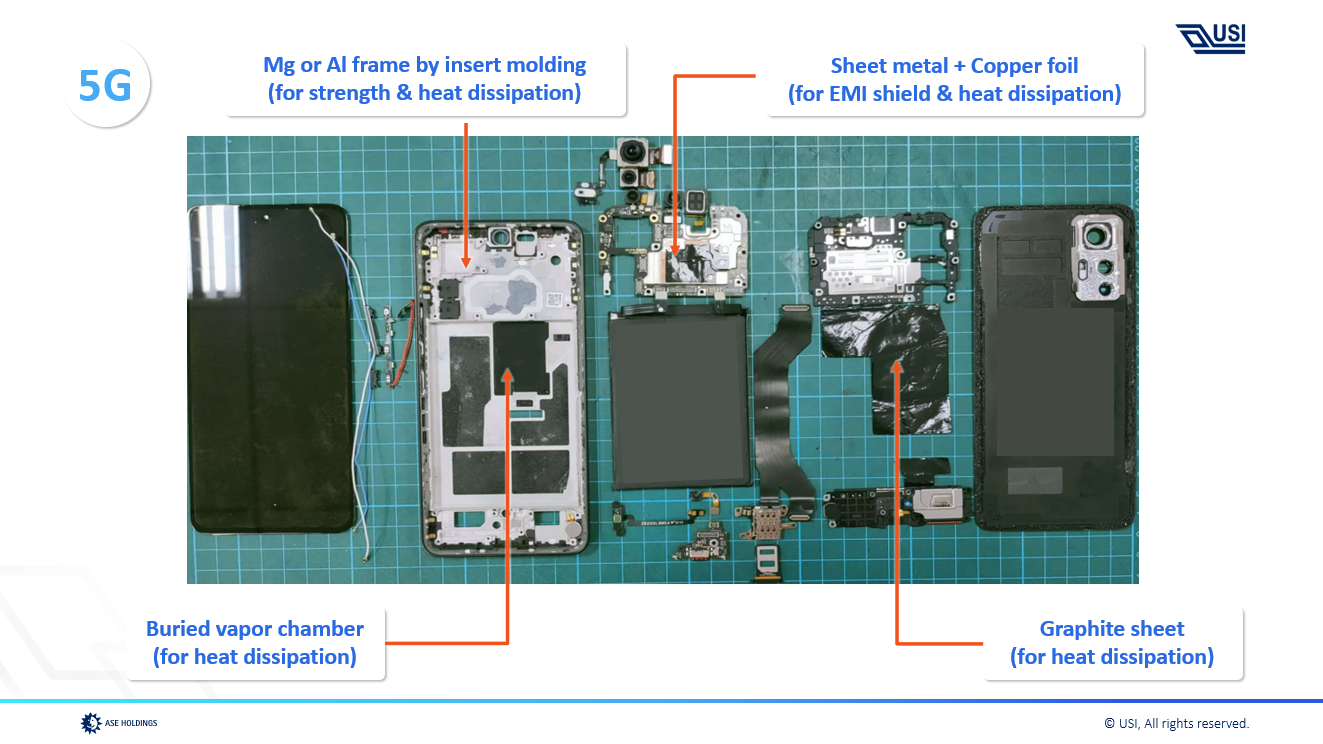 As you can see above, 5G products require more advanced cooling technologies, such as Vapor Chamber, as well as several cooling solutions to ensure product stability. And here comes the hints:
The temperature sensor's location needs to represent the housing temperature. It's to ensure the housing temperature not to exceed what users can withstand, also to avoid SOC throttling happen too early.

Thermal solutions will be designed based on suitable user scenarios. To chase on max. power is inadequate.

Graphite film can be replaced by copper foil + graphite coating to reduce the cost

Use thermal gel between IC and shielding can is recommended for easier assembly and less induced stress on IC
With the aforementioned development experience, the team has integrated and planned solutions that can "enlarge" the space:
Recommend change 2-piece bended shielding cans to one-piece forming shielding can + low-temperature solder for it

Multiple BTB connectors are placed together and secured by a sheet metal + screws

Have WWAN components on a small board for WWAN SKU. This will also help to reduce the cost for non-WWAN SKU.

Have antennas on the housing to reduce the thickness
In response to the increased demand for 5G end products, USI's Mechanical Design Team is continuing to invest more resources in developing more advanced solutions which including:
Adopt low Df material to be stable at several tens of GHz

Electromagnetic wave's skin effect will lead antenna's plating surface roughness requirements to be more severe

Heat dissipation 's metal for antenna array can't downgrade antenna's performance

More efficient stacking way of multiple boards to place more components
USI's experience in 5G products covers communication, computer, consumer electronics, automotive electronics, industrial and medical products. Welcome to

CONTACT US

for more details.
Keep up with top trending topic
For the latest innovation technology, application
and industry insight.
Subscribe Our Blog